Last metadata update
01/09/2023
---
General information
Description of the section
This section has information on crop production at the national, regional and global levels and includes indicators that allow for the analysis of its evolution over time. In total, information is available for countries and regions.
---
Base indicators
Gross values at country level:
Production: Amount harvested of the crop in tons.

Total production is the sum of production by region.
Yield: It is the production obtained per unit area, expressed in tons per hectare: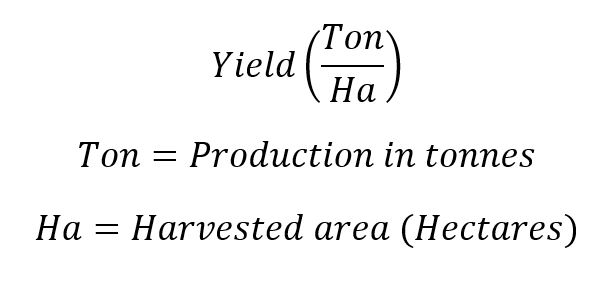 ---
Estimated indicators
Gross values of production and yield at regional and global level.
Annual Growth: Indicator of the percentage variation of harvested area, production and yield by crop with respect to the previous year.
10-year moving average: 10-year observation indicator of harvested area, production and yield. Construction of a moving indicator to monitor the average harvested area, production and yield by crop.

Ranking: Crops are defined in descending order by harvested area, production volume and yield.
---
Coverage and extension
---
Granularity list
National, Regional, Global
---
---
---
Additional information
Language
Spanish, English, Portuguese
---
Source of base indicators
FAOSTAT
---
Source of download of base indicatos
FAOSTAT API
---
---
---
Data access and licensing
This database is publicly accessible and can be consulted online. The database is licensed under CC BY 4.0.
---
Database size
Base with records